Norway is incomparably blessed with raw, natural beauty, making for holiday experiences that you will never forget
When travelling through the almost indescribable nature of Norway it feels a little as though you have dived into the most beautiful landscape painting you have ever seen.
Turquoise, blue and dark blue fjords are surrounded by massive mountains plunged in green. You'll find dramatic cliff edges and steep coasts, some of which you might even be able to walk on.
Because in Norway fjords, fells and mountain lakes function as venues for jaw-dropping experiences.
But where should you go on a trip to the neighbour in the North? The tremendous quantity of places to see and holiday activities to participate in, make this a rather difficult decision.
Therefore, we have created this guide for you.
We hope it can serve as an inspiration for your next trip up North and help you decide on where to go. Make sure to check out our wide choice of holiday homes and cottages in Norway to find the perfect base for an unforgettable holiday in the Norwegian nature.
Adventure on Svalbard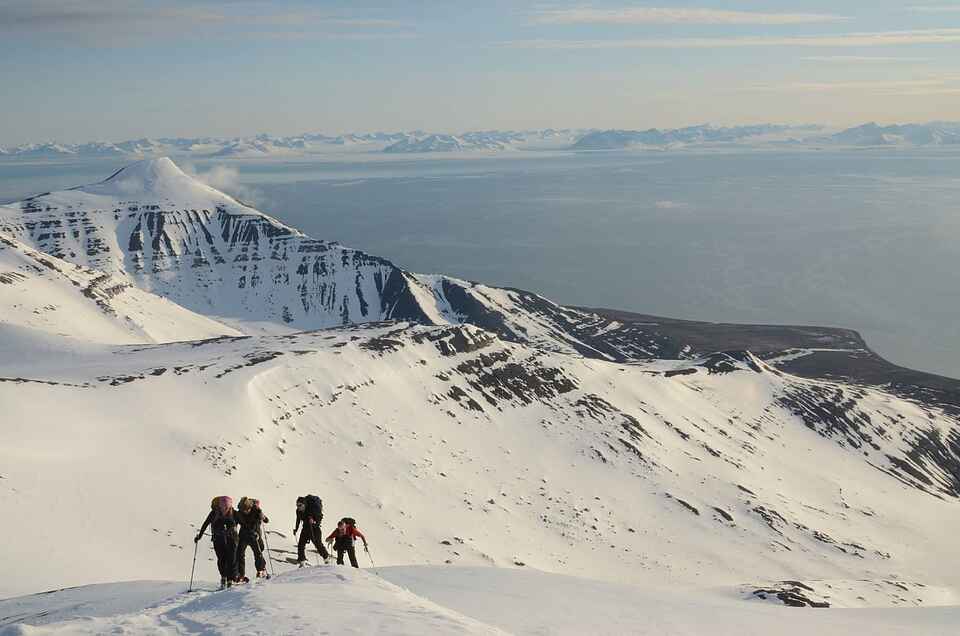 Svalbard lies high up North in the arctic ocean and marks the northernmost point in the Norwegian kingdom.
The archipelago is a snowy mekka for anyone into big nature experiences. There are snowcapped mountains, glaciers and massive open spaces as far as the eye can reach - making this an unbeatable place for adventure.
The terrain is accordingly demanding, however, and it is a good idea to team up with some locals when going out into the Norwegian wilderness.
The adventure and tourism company Basecamp Explorer have specialized in creating the perfect setting for those visiting Svalbard for a holiday in the wild nature.
They arrange everything from week-long expeditions with dog sleds in the snowy landscape to day trips on snow scooters. You can also tag along on a boat trip in the polar sea, ski- or hiking trips or go out and explore the place in a kayak, encountering large icebergs and curious seals on the way.
For many, a visit to Svalbard is an adventure and a memory that stays with them forever.
The nature is so grand, distinctive and unique that it leaves a lasting impression and possibly a new perspecitve on life and nature itself. The days are filled with breathtaking sights and demanding activities, and the nights are magical with Northern Lights dancing in the sky.

If you're up for it, go for it!
Langedrag Nature Park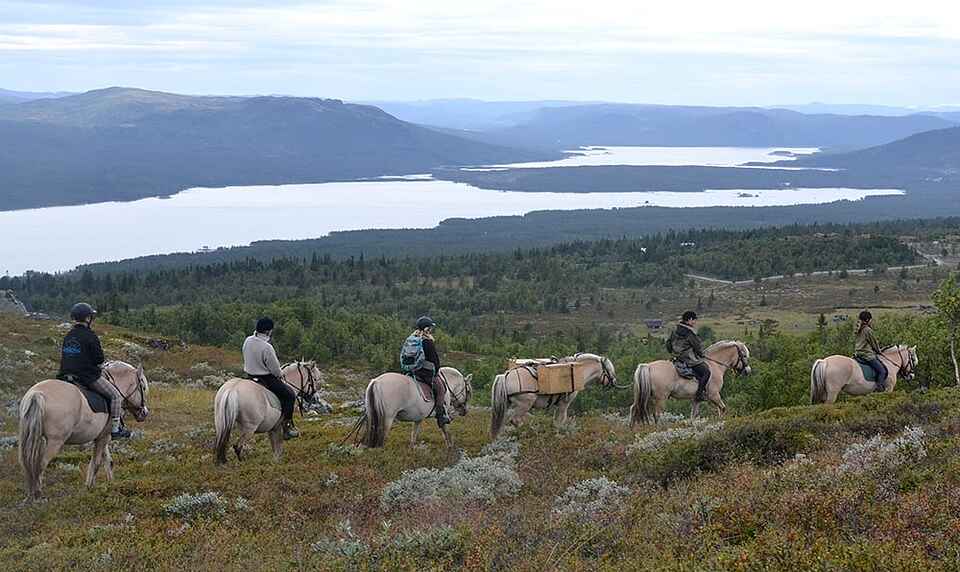 A couple of hundred kilometres northwest of Oslo you'll find the Langedrag Naturpark.
The nature park is built around a large farm/animal park with an array of different animals such as horses, wolves, snow foxes, elks, musk oxen and lynxes.
As a really special experience you can get into the enclosures of both the wolves and the lynxes and get really close to these predators. You can also visit and get close to some of the smaller and more cuddly animals.
Furthermore, Langedrag Naturpark arranges a variety of different activities out in the nature.

Maybe you fancy a horseback ride in the Norwegian fells, for example? It is a different and exciting way to experience the impressive natural surroundings of the park.
In the wintertime you can also take a tour with a real sledge through the snowy landscape - you can try out a dog sled, cross-country skiing and plenty of other things out in the snow.
Langedrag Naturpark is the perfect place for you if you enjoy being in nature and around animals - it's also a great place for longer stays. There's an array of different activities every day and there's plenty to see and experience.
Astrup Fearnley Museum
This beautifully designed building will immediately catch your eye. It houses the Astrup Fearnley Museum and is situated on a little island at the harbour, in the center of Oslo.
The museum is entirely dressed in wood and topped off with a curved glass roof, which falls in elegantly with the rest of the harbour environment. The different buildings are separated by small canals and connected by bridges.
In fact, the architecture itself makes a visit to the museum a must on a trip to Oslo, although the building as such is only the setting for what really matters out here - the art!
The Astrup Fernley Museum focuses on modern art and is one of the most important art institutions in Norway.
There are many different, constantly changing exhibitions in the museum featuring important Norwegian and international names in contemporary art, as well as selected elements from the museum's grand art collection from the 1960's up to today - all exhibited and portrayed in beautiful surroundings.
The museum has exhibited the work of Jeff Koons, Yoko Ono, Olafur Eliasson and Andy Warhol along with many other important and ground breaking artists from the past 50 years. Furthermore, several exciting activities are arranged in the museum, such as the popular Art Nights (see video below).
If you do visit the museum, you are guaranteed both recognition, wondering and amazing experiences in the incredibly well-made exhibitions.
Valldal Activity Park
In between rivers and tree-covered mountainsides in midwestern Norway you'll find the Valldal Activity Park.
The park holds a range of different climbing courses in the treetops with varying levels of difficulty.
Kid-friendly climbing courses have been made close to the ground with fun little aerial runways, and for the older kids there are a variety of combined climbing and obstacle courses in the trees.
Due to the park's location in the river-rich west of Norway, there are stunning views on rivers and forests from almost all of the courses.
When you zip-line over a roaring stream, for example, it is at the same time a beautiful and adrenalin-evoking experience.
Get ready for a day full of fun and action in the Norwegian nature.
It's highly recommended!
The Hamsunsenter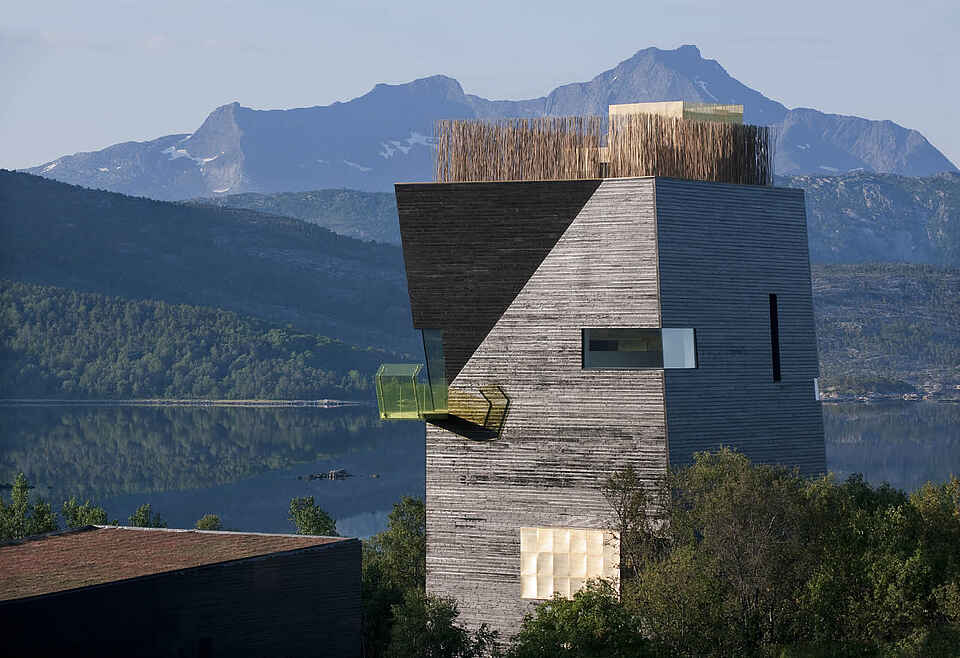 The Hamsunsenter is situated in between large fjords in northern Norway, and surrounded by tree-covered hillsides and mountaintops.
The hamsunsenter is the national center about the writer and Nobel Prize winner in literature, Knud Hamsun, who grew up in the area.
Hamsun was a controversial figure in his time. He was, among other things, unhappy with realism's lacking focus on the human being as an entirety. He wanted a stronger focus on human emotions, which became characteristic for his literature.
Politically he was highly controversial, too, supporting Germany during both World War I and World War II.
Because of Hamsun's origins in the area, the center is built on the idea to bring nature inside through large window sections, balconies and the like.
It is the nature in this area that has inspired Knut Hamsun's writing and books, and the architect-designed center gives an interesting insight into the award winning writer's world and controversial life, as well as the beautiful surroundings that inspired him.
Several different activities are being arranged at the Hansunsenter, such as architecture walks in the landscape, readings and movie presentations about the writer's work and life, as well as debate nights, concerts and all kinds of other things.
If you're looking for some intellectual stimuli in combination with gorgeous nature on your holiday, the Hamsunsenter is the place to go.
Nordfjord - the place for exciting activities
Nordfjord in the western part of central Norway reaches from the coast through the large fells far up into the country.
This makes the fjord a gorgeous natural beauty, where the ice blue water creates a striking contrast to the tall, tree-covered and snow-capped mountains around the fjord.
The scenery is like taken straight out of a movie, and the combination of massive mountains, large forests and the huge fjord make the area a giant outdoor mekka for activities in the Norwegian nature.
In the mountains surrounding the fjord there is a cluster of hiking trails, which is used by visitors for both short and long hikes. If you fancy a long one, you can sleep in everything from primitive shelters to well equipped cottages and hotels.
Furthermore, there are plenty of mountain bike trails, ski slopes and climbing possibilities in the mountains and forests, and the fjord itself also makes for all kinds of awesome outdoor activities.
You can go ahead and sail in a kayak or canoe on your own and take a closer look at the spectacular surroundings from the water, just like there are different options to rent sailing tours. Both the really adrenalin-evoking ones and the calm, cozy kind, where you glide slowly over the water, taking it all in.
But these are just a few examples of the many options you have for outdoor fun around the fjord. The people behind the local tourist organizations call the place: Nordfjord - everything in one fjord.
And that is very fitting, actually!
Mineralparken
Southern Norway is a true activity-mekka and it is here that you find the unique theme park Mineralparken.
The park was initially established on the grounds of a large privately owned mineral collection, which still today is a central part of the park's story.
In the exhibition area you can have a closer look at stones and crystals from all over the world. And you can do more than just look.
Children and adults can touch and feel the many different and special kinds of stones, and you can create figures and jewelry with them in the stone- or jewelry atelier.
You can also go on a treasure hunt among all the colourful stones and there are prizes for all the children who finish the treasure hunt.
There are plenty of funny and educational activities outside, too. For instance, there is a large playground and a stream, in which you can hunt rare stones and crystals! If you want a little more action, you can also play laser tag against each other or compete on a bubble soccer field.
The Mineral Park is located close to a large lake, which is also included in the activities. Here, you can take a trip in one of the pedal boats or dive into the water to freshen up after a long day full of excitement.
In extension of the Mineral Park you'll find Klatreskogen, which you can read about in the next section.
Klatreskogen
Klatreskogen lies the same place as Mineralparken and is established in the tree tops in a forest on the edge of a large lake.
There are courses for both children and adults, advanced climbers and newbies, and great, fun experiences out in nature are guaranteed here.
It takes between an hour and a half and two hours and a half to get around the park's big course, whilst it takes about half an our to climb the junior course.
No matter which course you choose to try out, be prepared to get your pulse up and a smile on your lips. Norway's nature is in every way grand and amazing, and you will really experience that from out and up here.
For example by taking the long zip line to the other side of the lake. You'll soar over rocks, pass by large pines and enjoy the amazing view over the lake, far out over the deep blue water.
Of course, there will be experienced climbing instructors in the park, giving you instructions and making sure that you'll all have a fun and safe day in the tree tops.
The Mineralparken and KLatreskogen are situated at about an hour's drive from Kristiansand on the south coast of Norway.
Gokart Track Evje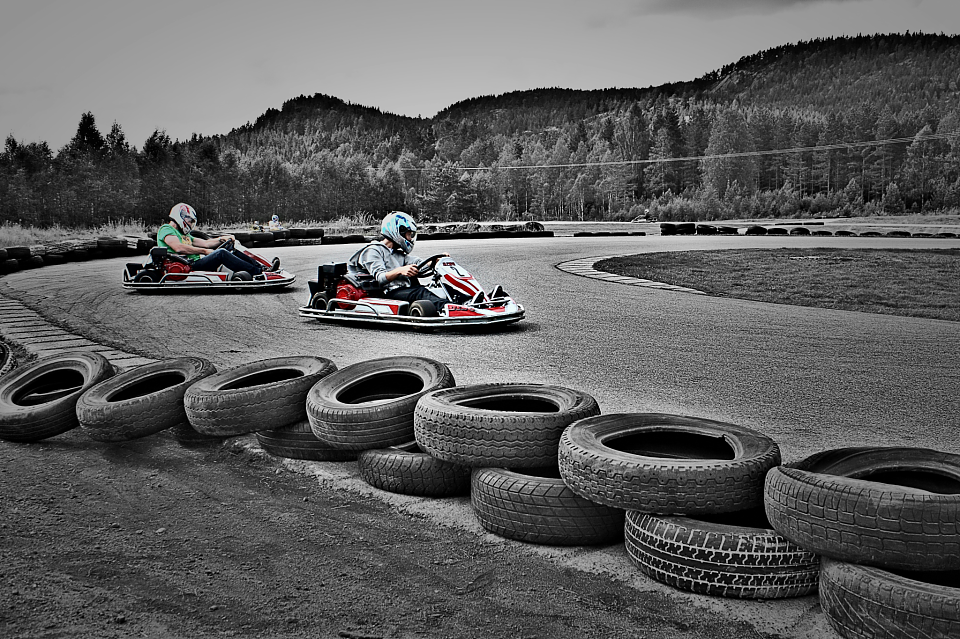 Are you into speed? Then you definitely shouldn't miss out on this Gokart Track in Evje in southern Norway!
The outdoor track is one of the biggest there is in Norway and it is beautifully situated in typical Norwegian nature with tree-covered hillsides and close to a large river.
The Gokart track, which is easily accessible just South of Evje, is located at about an hours drive from Kristiansand on the Norwegian south coast.
Do you have small children? No problem! The guys from Gokartbanen Evje have thought of the youngest family members, too. There are small electrically driven cars on a dedicated kids track, so they can safely go crazy racing each other and have a great time. They do need to be at least two years old to drive the cars, though.
There are also different types of races at Gokartbanen Evje. You can race with up to 15 people at a time, and it is possible to participate in both shorter and longer races with more heats. If you are a large group that wants to drive together, it might be a good idea to make an appointment with them first. If you are a smaller group, on the other hand, and you want to race others, you can always team up with others on the track.
Getting hungry? You can visit the Gokart track's cafeteria and kiosk or bring your own food, which you can grill on the provided barbecues on site.
For any questions or special wishes you are more than welcome to contact Gokartbanen Evje.

Campaya has collected a wide variety of cottages in Norway, spread all over the country - you can see them in our search engine, where you can book the cottage that suits your trip best.
If you need help finding the right cottage or holiday home, our customer service is ready to help you any day of the week.
We hope that you have been inspired to visit Norway and its breathtakingly beautiful nature.
Norway is calling - let's go!