Please specify arrival and departure dates, and number of guests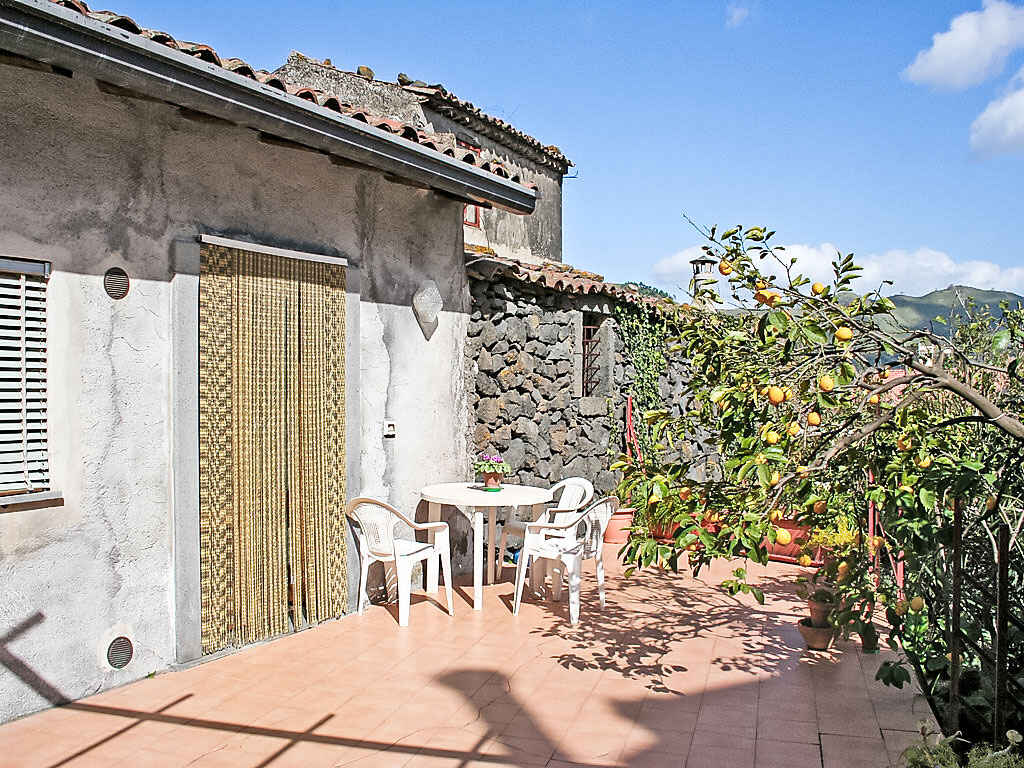 Description
Single-family house "San Rocco", 1'000 m a.s.l.. In the resort Linguaglossa, in a central position, 13 km from the sea.

Private:
Patio, garden furniture. Stepped path to the house. Public parking 50 m. Grocery, restaurant 300 m, sandy beach 13 km. Golf course 3 km.

Nearby attractions:
Guide per escursioni Etna 500 m, Taormina 28 km, Aeroporto Catania 60 km, Siracusa 112 km.

Please note:
Car recommended. The balcony borders on the house of the owner. House is situated 15km from the top of the Etna.1-room house 60 m2.

Comfortable furnishings:
Living/dining room with 1 double sofabed and TV (flat screen). Gallery with 1 double bed. Kitchenette (4 hot plates, freezer) with dining table. Shower/bidet/WC. Heating (extra).

Facilities:
Baby cot, hair dryer. Internet (WiFi, free). 1 small pet/ dog allowed. Ceilings with beams.
Prices per week
Mar 18, 2017 - Apr 14, 2017

£

229

Apr 15, 2017 - May 26, 2017

£

280

May 27, 2017 - Jun 30, 2017

£

372

Jul 1, 2017 - Jul 28, 2017

£

422

Jul 29, 2017 - Aug 18, 2017

£

465

Aug 19, 2017 - Sep 1, 2017

£

422

Sep 2, 2017 - Sep 22, 2017

£

329

Sep 23, 2017 - Nov 24, 2017

£

229

Nov 25, 2017 - Mar 30, 2018

£

236

Mar 31, 2018 - May 25, 2018

£

280

May 26, 2018 - Jun 29, 2018

£

372

Jun 30, 2018 - Jul 27, 2018

£

422

Jul 28, 2018 - Aug 17, 2018

£

465

Aug 18, 2018 - Aug 31, 2018

£

422

Sep 1, 2018 - Sep 28, 2018

£

329

Sep 29, 2018 - Apr 12, 2019

£

236

Apr 13, 2019 - May 24, 2019

£

280

May 25, 2019 - Jun 28, 2019

£

372

Jun 29, 2019 - Jul 26, 2019

£

422

Jul 27, 2019 - Aug 16, 2019

£

465

Aug 17, 2019 - Aug 30, 2019

£

422

Aug 31, 2019 - Sep 27, 2019

£

329

Sep 28, 2019 - Nov 29, 2019

£

236
Distances
Golf:

3000 Meter
Distance to water:

13000 Meter
Facilities - Inside
Sleeps:

4
Bedrooms:

1
Extra sleeps:

1
Bathrooms:

1
Rooms:

1
TV

✓
Internet

✓
Shower

✓
Cot

✓
Wireless

✓
Type:

Villa